I'm not actually a coffee drinker but the pattern to make a little cafe con leche cup on Ana Paula's blog was too hard to pass up.  This pattern can also be found in her first book.  I loved the rosy pink cheeks and cute little smile!

I used green worsted weight cotton yarn (4 ply), and since the stitches were so big, we were actually able to stick two beads between the stitches (rather than crocheting them into a row and crocheting around them).  Ryan used a glue gun to secure the beads in place.  I also modified Ana Paula's handle to the following pattern:
Handle

Chain 2

Round 1: Work 4 sc in 2nd chain from hook

Round 2-10 (or to desired length): Sc in each sc (4 sts in each row)

Fasten off
And here's the finished product: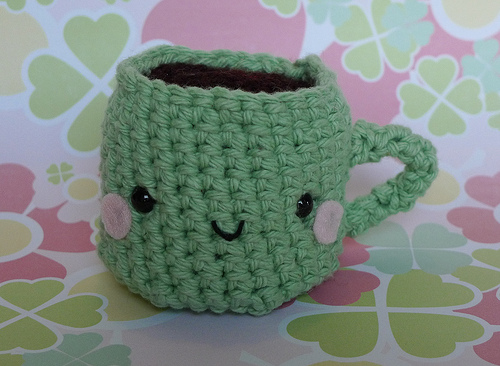 I also couldn't resist taking some photos of the little cup with some of my favourite home-made treats: Rice Krispy Squares!

I also found this photo of a coffee mug on Puchi.tomato's flickr page.  I loved the sleepy expression of the mug!  There was no pattern, but I thought I'd try and make it by myself!
Here are pics of the assembly: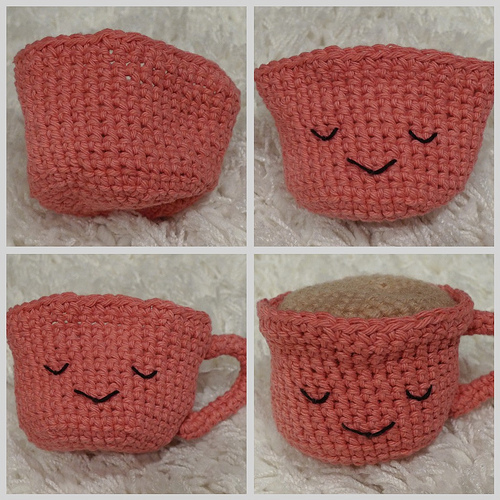 If anyone is interested in the pattern, let me know and I will try and write out what I did.  One important part is to sew the handle onto the cup so that it curves like half a heart.
And the finished product!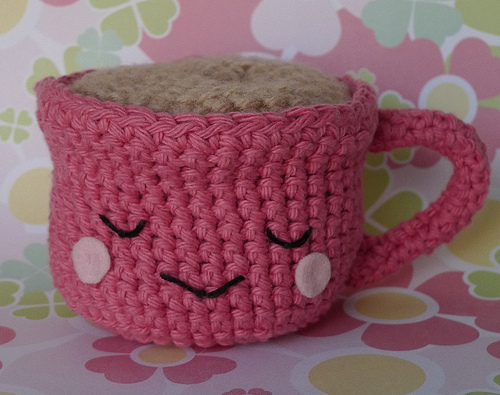 I haven't made the cute little marshmallow yet, but I can always still add it on 🙂
Again, I couldn't resist taking some photos of the mug with more treats: cinnamon buns this time (alas, not home-made though).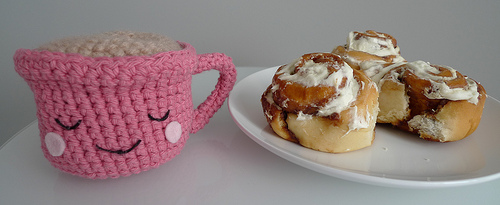 Aren't they cute together?
I have plans to make a cup cozy using this pattern in the future, so stay tuned for that!