My younger sister Ashley is getting married in July!  I have the incredible privilege of being her matron-of-honour, and the girls will be her flower girls!  We hosted her bridal shower over the weekend, and I wanted to share some of the details with you as we worked with some amazing local artists and made some of our favourite delicious treats!
A couple of years ago, Ryan and I made a birthday cake for Ashley that she LOVED and we always joked about making her wedding cake.  Well, now the time has come for her to get married and lo and behold, we ARE making her wedding cake!  This bridal shower cake was great practice for us, particularly since we've only made children's cakes recently (Myla's Ariel cake and Brie's Totoro cake) which are a very different aesthetic!  We used the Wilton 6″ x 3″ round cake pan to make two layers!  I followed this recipe HERE to make a moist yellow pound cake, and the trick is to add a package of vanilla instant pudding and pie filling to the box cake mix to make it moist!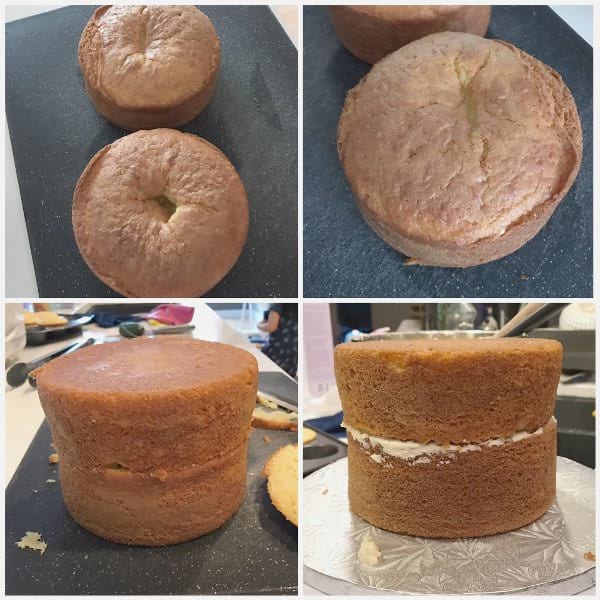 Between the two layers and to ice the cake, we used this amazing Swiss Meringue Buttercream recipe HERE!  This buttercream is our absolute favourite recipe, and it tastes heavenly as it is light and not too sweet!   Ryan did such a great job icing the cake to give these pretty and delicate tiers- our new rotating turntable cake stand really helped during the process (see HERE)!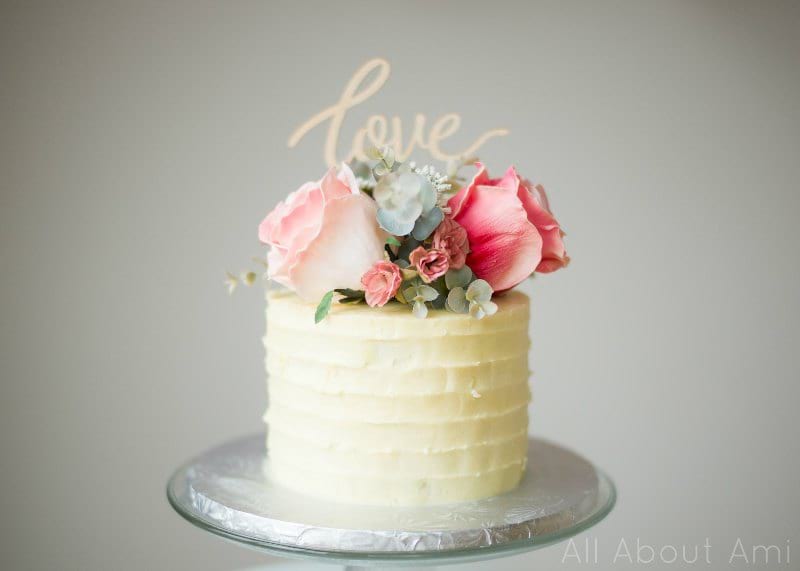 We purchased these incredibly realistic roses from Michaels!  Ryan arranged the florals how he wanted and hot glued them together.  They are such an elegant and romantic cake topper!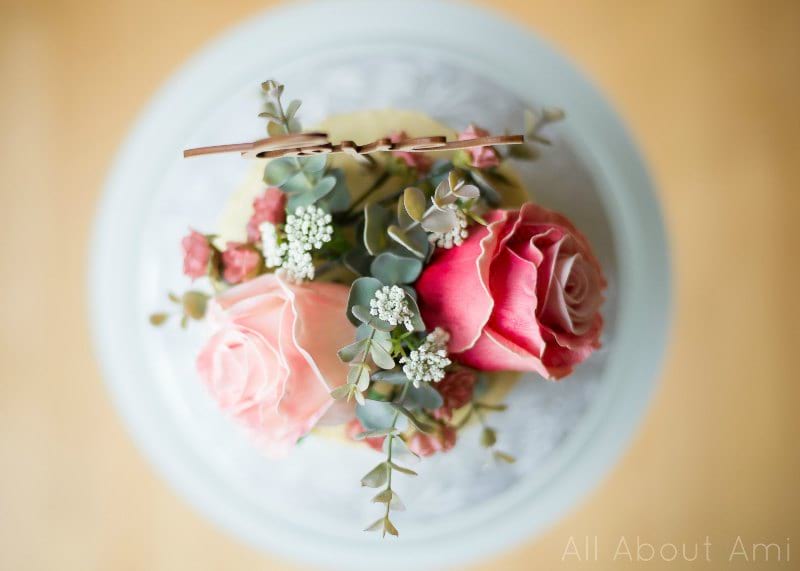 The beautiful script "love" cake topper is natural wood and was designed, lettered, and created by Diane of BrickBubble in her home studio (Diane makes my ultraleather garment tags as well)!  We chose the 5.5″ wide option (there are two sizes available), and you can also order this cake topper in white/black/mirrored gold acrylic or wood painted silver/gold (matte).  You can read more about it HERE!  I adore how romantic it looks atop the cake and it really adds that extra "oomph"!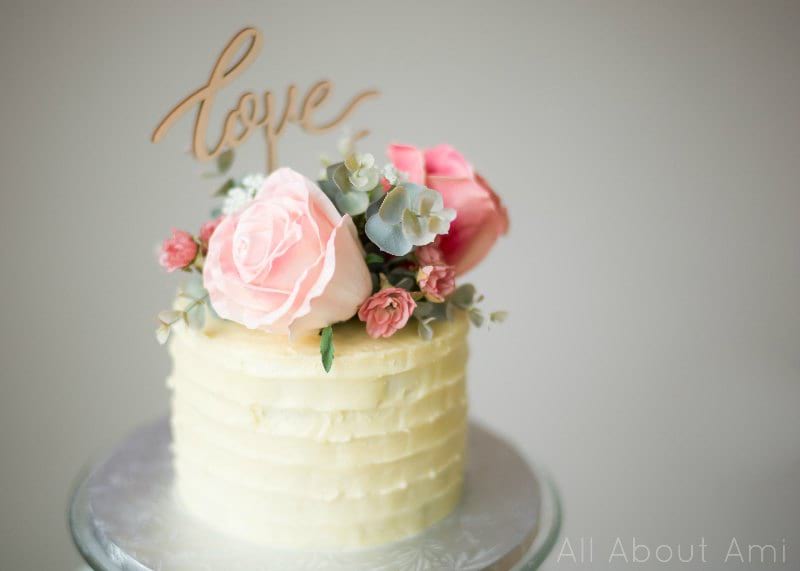 Here is a picture of our Dessert Table & Feature Wall!  Aren't those handmade paper flowers simply STUNNING?  I'll tell you more about them a little later on!  First off, I'll show you some of the treats we prepared!  We made croissant sandwiches and our favourite Layered Finger Jello– see my recipe HERE!  I love how you can choose different jello colours to match the colours of your theme (e.g. blue and red for Independence Day, red and green for Christmas, etc.) and it's always a hit, particularly if there are children!  We also made our favourite punch called "Apple Orchard Punch" (see recipe HERE) and for guests who wanted water, we made some special infused water by adding sliced lemons and cucumbers!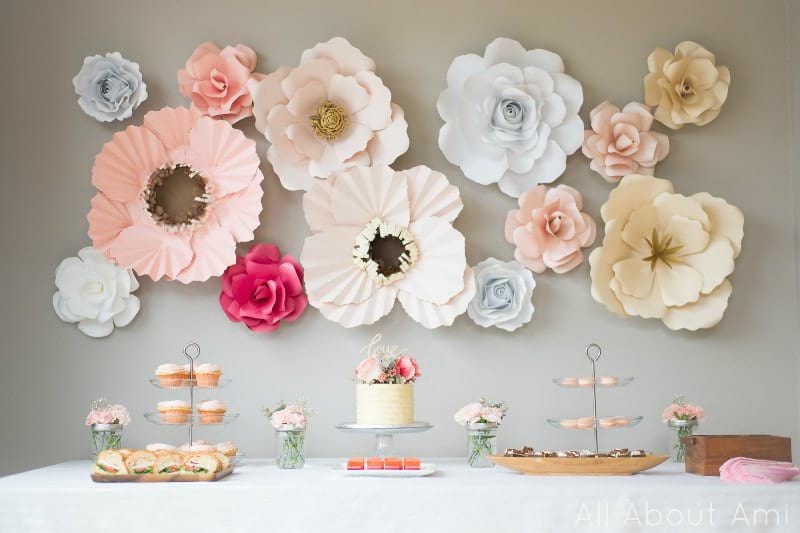 When we baked our cake (two layers = two boxes of cake mix), we had leftover batter and swiss meringue buttercream, so we made cupcakes!  We were able to make about 15 cupcakes with the left-over batter and buttercream which we tinted blush pink with a little bit of red food colouring!  Ryan did such a beautiful job icing the cupcakes!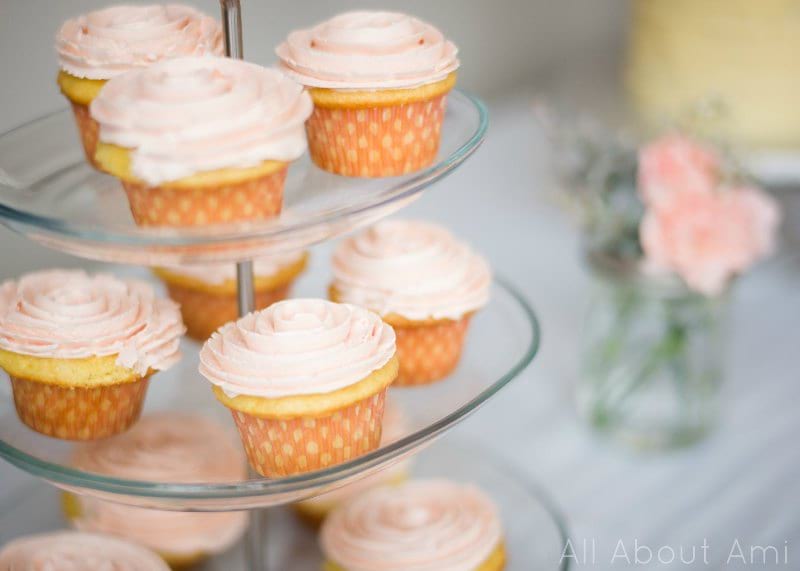 We LOVE macarons so I ordered them from my macaron-loving, food blogger friend named Lillian of "Beyond Umami"!  We have been friends since grad school, and she loves baking new flavours of macarons, perfecting them, and sharing her adventures and recipes on her blog!  I asked her to make earl grey macarons and requested them to be blush pink to match the theme.  She did such a great job getting the perfect colour, and her macarons were SO delicious!  They were chewy with amazing flavour, and I would HIGHLY recommend her if you are looking to order some macarons for a special occasion!  Don't forget to check out her blog HERE too!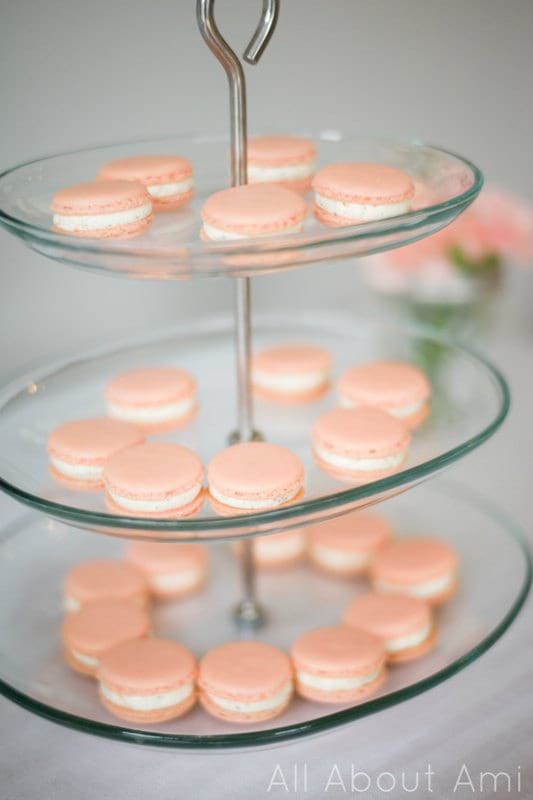 These beautiful paper flowers are handmade by a friend named Joanne of Sophie.b decor!  Our guests were in awe of her work and many people asked about these unique art pieces!  These flowers are so eye-catching and provide such a beautiful effect against our grey wall since they are 3-D!  We rented these flowers for our bridal shower, and I love how Joanne has this option as not everyone has the skill to make them, and even if you did, you would need to store them somewhere if you only needed them for a special occasion.  The colours were absolutely perfect for our theme as Ashley's wedding colours are blush pink and gold!  I think these flowers would be such beautiful decor in a nursery, little girls' room, or workspace!  You can order these flowers HERE in Joanne's Etsy shop!  You simply hang them to the wall using 3M Command picture hanging strips so you do not damage your walls.  If you are interested in trying to make these flowers for yourself, you can also check out Joanne's templates and Pro-Tips in her Etsy shop HERE!  Joanne also has a blog HERE where she shares about her crafty adventures (she just posted a tutorial on how to make a small paper rose HERE)!  Part of us wanted to keep those flowers up forever, but that is the wall we use to take all our family photos and finished product shots haha!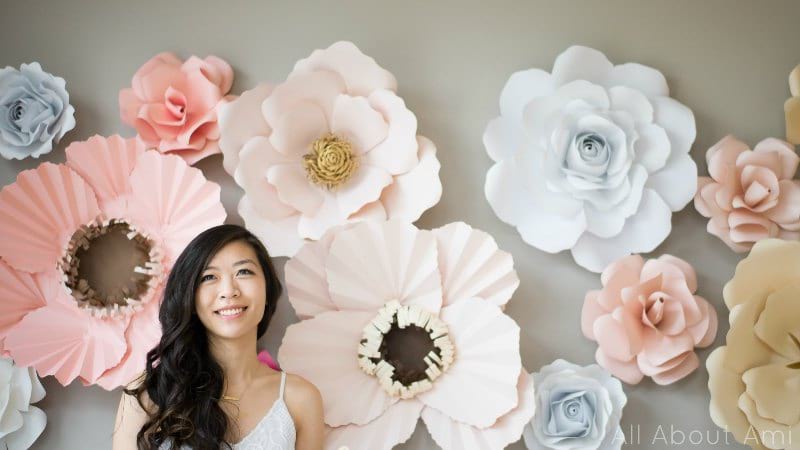 Ashley almost didn't have the heart to cut the cake!  Here is the cross-section so you can see how there were two layers of yellow pound cake with the swiss meringue buttercream in between!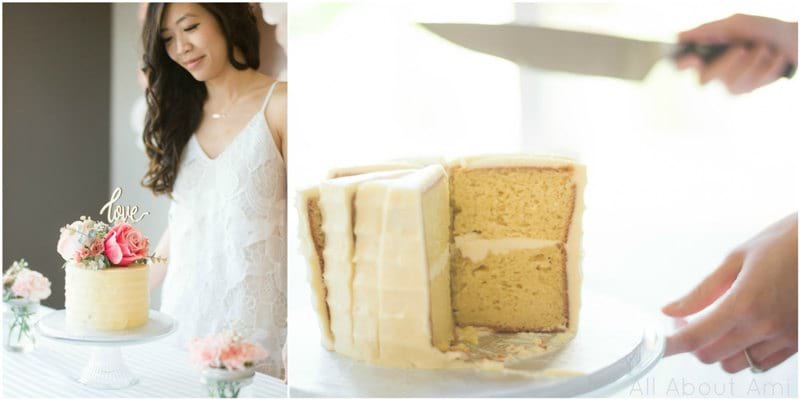 Below is a photo of the girls in our family: my mom, Ashley, me, and Brie & Myla!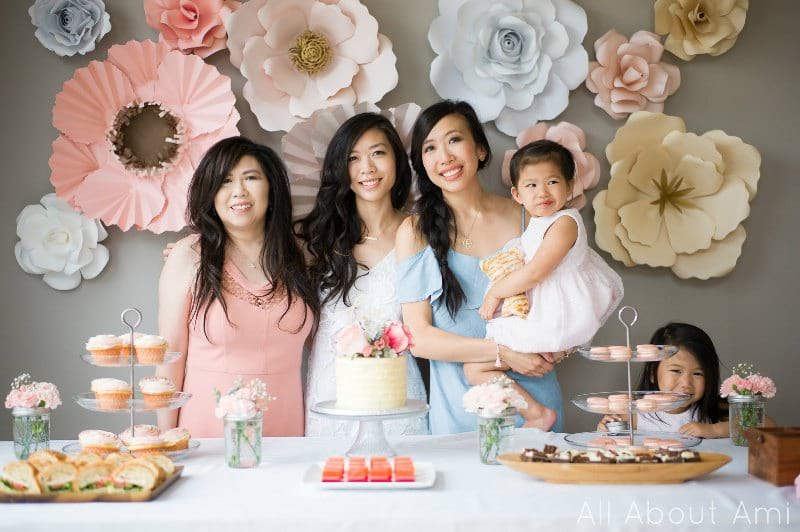 For bridal shower favours, I had the idea of making beaded bracelets with teacup and plate charms!  I found these absolutely adorable charms from Michaels and knew they would look so cute on bracelets!  We bought some elastic cord and beads and had fun stringing them together as a family.  After tying a double knot, we added some drops of Super Glue to make sure the knot wouldn't unravel!  Our guests LOVED their special handmade bracelets and wore them right away!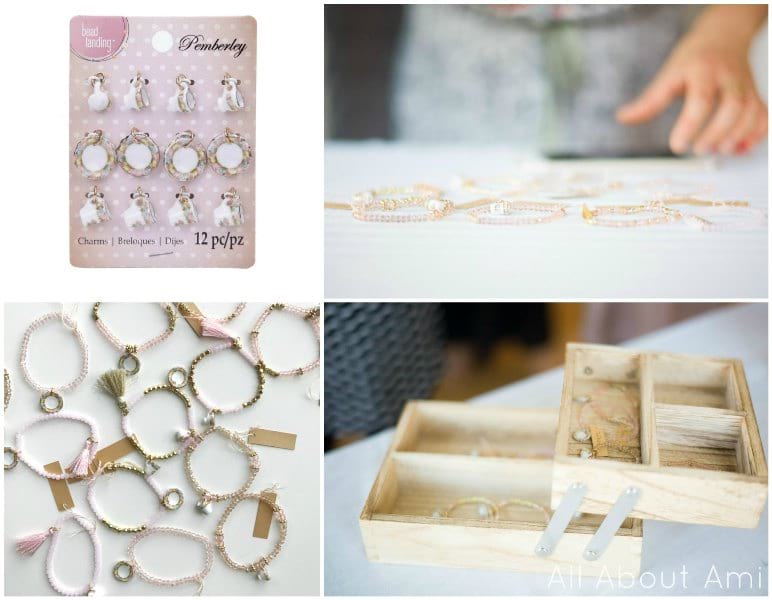 As one of the bridal shower games, we made playdough wedding dresses!  I was thinking of playing the traditional toilet paper dress game, but I thought this would be a neat take on it with less waste, and we already had the supplies!  I gathered all the girls' dolls (Magic Clips and McDonalds dolls) and had each guest design a wedding dress using playdough!  Below are some of the dresses our guests made, with Myla's dress being on the far right!  It was a lot of fun as Ashley judged her top 3 at the end!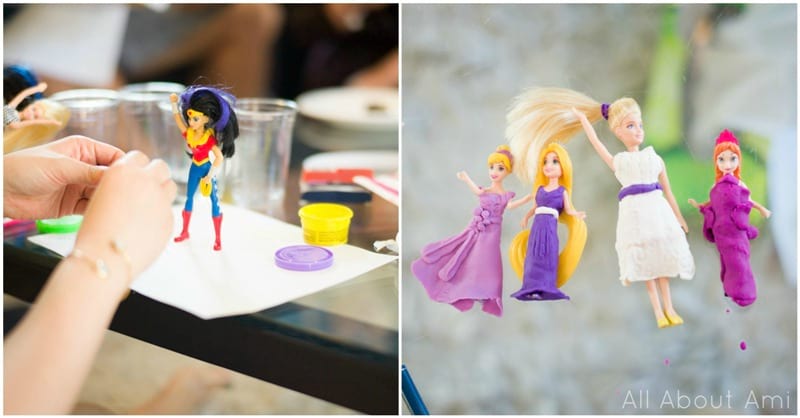 Ashley had a wonderful time and I'm so happy that we could host her bridal shower with pretty florals and tasty treats!  I hope we could inspire you with some decor, cake, and recipe ideas!  I can't believe Ashley is getting married next month….I've got a matron-of-honour speech to write!  Thank you for keeping up with all our adventures!